Wenatchee Roofing provides roofing that is second to none in Wenatchee and North Central Washington. For over 15 years, we have delivered top-quality roofing services to businesses and homeowners alike. We have a wide variety of roof styles and options that will complement any business or residence.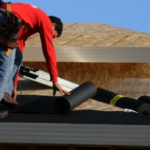 If your current roof is more than 10-20 years old, most likely, you are in need of a new one. A leaky, old roof has the possibility to bring unwanted damage to your house, as well as raise your homeowners insurance. We can come to your home and install a new roof that will save you money in the long run!
Here are a few of the many advantages to having a new residential roof:
Savings on monthly Energy Costs
Holds Up Against Adverse/Harsh Weather
Increases the overall Value of your Residential Property
You will be happy to find out that you really do not have to live with an ugly, outdated looking roof any longer! The roof specialists at Wenatchee Roofing can renovate or repair the roof of your home with our line of superior-quality products. Our entire line of home roofing systems is easy to clean, as well as resists mold and mildew. We have many styles, colors, and patterns to meet your needs.
When the time comes for to repair your home's roof, trust Wenatchee Roofing as the best construction company in Wenatchee, WA and the surrounding areas. With us, we are dedicated to the highest quality of work and customer service. Whether it is house roof installation or leaky roof repairs, we will handle it in a professional manner, since no job is too small to receive our total commitment.